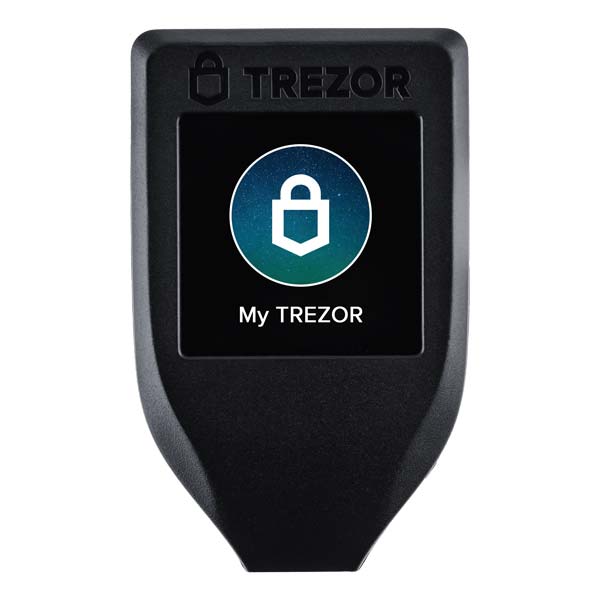 If you are looking to buy Trezor Model T hardware wallet for your Bitcoin storage, but not sure if it has the right specs for your needs, you are on the right page. What we have here is an unbiased review of the hardware wallet, Trezor Model T.
This review will discuss the design, functionality, security, the cryptocurrencies it supports, and many other features that make it one of the best hardware wallets in the marketplace. The goal of this review is for you to make an informed decision after reading. Without further ado, let us get into the details of what this hardware wallet is all about.
The Trezor Model T is a second-generation hardware wallet released by Satoshi Labs. It is designed as safe storage to keep Altcoins, Bitcoins, and other digital assets safe and made for retail users. It works on a new firmware called TREZOR Core, which allows the new features in this hardware to materialize.
In addition to safe storage, it also encrypts digital keys and passwords and offers two-factor authentication. When it comes to safety and security, you cannot find any flaw in this digital wallet. It's like having your bank right in your small device.
Highlights of Trezor Model T

:
Colorful touchscreen with bright color LCD
Powered by a new operating system, Trezor Core
Buttonless function
Supports 689 coins, mostly ERC20 tokens
Bigger screen
Mobile support for Android Users
Compatible with external wallets
Design
The Trezor Model T has the same concept as other hardware wallets; it is a USB dongle to store your cryptocurrencies securely. However, what makes it different is this model does not look like your USB thumb drive. So, when it's mixed with all your other USB dongles, you can easily find it.
It is slightly lighter too at 16 grams and has a dimension of 64mm x 39mm x 10mm. The size is small and fits in your pocket. The beautiful color LCD screen's size is 240 x 240 pixels. With this LCD screen, you can customize and configure the wallet. It is also more than sufficient for a hardware wallet of its kind and far superior to its competition.
This device connects using the USB-C to your computer and mobile device. Inside the Trezor Model T is an embedded ARM processor on 168 MHz, a Cortex-M4. It runs on its custom-developed operating system called The Trezor Core. Both the software and hardware are public and open-source.
It works with a broad range of operating systems including Windows, macOS, and Linux. You can also use Chrome extensions if you want. Added features include options to change your language and view the transactions on screen.
The Trezor T has RoHS and CE certification. This means that it has met all the requirements when it comes to reliability, environmental, and quality standards. You don't have to worry about bringing it with you even on a flight as it will not bother with the planes communication systems and even x-rays. The device comes with stickers and a magnetic dock that holds the device for more convenience.
When it comes to design, the Trezor T exudes an air of security and robustness. The internal specs of the hardware support how it looks, while the LDC touchscreen display offers ease of use and functionality.
Security
According to the manufacturer, Trezor Model T is the most secure hardware wallet in the market today, and it's because it has a robust number of security features. Let us check them out one by one.
When you receive the device, it comes with a sticker that covers the connecting port to prevent tampering. Also, the case of the hardware will be difficult to tamper with because of its ultrasonic welding.
The security of the software starts with its bootloader. It verifies the firmware signature of the device and will only run if it's the correct firmware signed by the manufacturer. When in this procedure, it detects an abnormality, it will automatically warn the user. This bootloader has a write-protection, and the Memory Protection Unit secures its MCU. Another role of the bootloader is to erase the memory on firmware updates and to restore it only when the firmware signature is validated. You cannot downgrade it, too, as it erases the memory.
You can only operate the device with private and public keys only you have authenticated it using their PIN Code. The Trezor Model T also supports BIP39 passphrases. It does not store or remember the passphrases on the device, so you'll be protected. However, like any other hardware wallet, the recovery code's security is the responsibility of the user.
If you will not secure it and somebody uses the passphrase on the device, it will be compromised. You can move the funds to another location and can only be transferred back to the device after you have refreshed it and created a new wallet. This device also has an on-board LCD that shows your transaction to review and approve as an added security.
Another feature of the Trezor complied with transparency imposed by blockchains. It provides all interested parties with a log of its past issues. You can log on to its official website and find these issues that date back to 2014. Satoshi Labs has a reward program for those who can find vulnerabilities on their products among the users.
In terms of security, Satoshi Labs has outdone itself with the Trezor Model T. It is a superior product that is safe and secure.
Functionality
The Trezor T is loyal to the original concept of the original Trezor One, but it is more superior and has many additional benefits in terms of functionality.
First is the full-color touchscreen. This feature provides ease of use and better user experience, the monochrome display of its predecessor, and other hardware wallets. All of them use buttons to operate. In the touchscreen display, the user can input his or her PIN codes directly on the Trezor T. You don't need a mobile device or a computer to do it.
Currencies Supported by Trezor Model T
This hardware wallet supports Bitcoin (BTC), Dash (DASH), Litecoin (LTC), NEM (XEM), Zcash (ZEC), Ethereum Classic (ETC), Ethereum (ETH), Bitcoin Cash (BCH) and an enormous quantity of altcoins, about 500 of them. The regular updates on the software enhance its features and allow it to support more cryptocurrencies.
Another advantage of the Trezor T is you can access all the currencies without having to install individual applications. It streamlines that process for more convenience. The only drawback with this hardware wallet is IDEX, Binance DEX, and Switcheo exchanges do not support it.
Third-Party Wallet Support
A third-party wallet like Exodus Wallet supports Trezor. This hardware wallet can access the inside and choose between the various wallet interfaces to enjoy its unique features, including the direct exchange of currencies.
You can access the Trezor T using the browser extension available for Trezor Wallet. It provides an appealing user interface that is even better than its competition. This extension supports account management, receiving and sending of cryptocurrencies, transactions and account labeling using the Dropbox, access to accepted third-party exchanges, and messaging.
The Trezor Model T provides convenience thanks to its user-friendly design combined with powerful hardware. It offers secure storage yet simple cryptocurrency experience.
Mobility
One thing that the Trezor Model T is Bluetooth technology. Unlike its contemporaries, it has no Bluetooth, and you can only connect it to your mobile device with a USB cable. In a real sense, it is not a mobile device.
The device is compatible only with Android devices and laptops. The manufacturer has not developed an update to enable the device to support iOS. To use this option, you need to download the Trezor Manager app from the Google Play Store. This app will allow the user to work on the hardware wallet, including viewing the account details, sending cryptocurrencies, and viewing addresses.
It is perfect for those who are using Bitstamp and Bitex cryptocurrency exchanges because they can instantly connect to these exchanges when they are using this wallet.
How to Setup Trezor Model T
The Trezor Model T has a longer cable compared to the One model. The device and interface are also easier to view. In short, the device is easy to wrangle. Here is how to start using this hardware wallet.
Before you start getting the device working, you need to download the extension for the device. The extension is Trezor Bridge, and this works on Windows, Linux, and macOS. It will allow your computer to display your wallet's contents and make transactions.
Once you have downloaded the software and plugged in the USB-C cable, the Trezor Wallet will automatically install the latest firmware for the device.
Next is you will see a prompt to set up a new wallet or to recover an old wallet in your recovery backup. If you want to create a new wallet, you need to click the appropriate option on your computer screen.
On your screen, you will see a phrase that mentions, "Your Trezor is not backed up." This is an essential part of the setup. You will be prompted to back up your private key. The device will show four words on the screen. Write these words down on your backup sheet. Continue doing this until you have twelve words in total. Take note that the backup sheet is waterproof and tear-resistant, and you need to use a waterproof foil pencil.
Confirm all these words that you have noted down. The device will check if you have written the words correctly by asking you two random words.
You will refer back to your computer screen and be prompted to name your Trezor device.
The next step is to set up your PIN code. It is important because you will use it to access your device and serves as an extra layer of protection. Choose a PIN code that is not easy to figure out by someone else and confirm it.
Technical Specifications
The Trezor Model T has an ARM Cortex-M4 processor at 168 MHz embedded on the STM32 F2 controller. It is compatible with a 64-bits desktop computer, Windows 7 and above, Linux and macOS. You can connect it using the USB Type C cable.
Pros
Touchscreen LCD colored LCD
Supports multiple currencies
Well-secured storage
Robust design, software, and hardware
Easy cryptocurrency storage
Cons
No Bluetooth capability
Not compatible with iOS
Conclusion
The Trezor Model T is by far the best hardware wallet made by Santoshi Labs. It has a user-friendly design, robust hardware, and backed by a secured software. It is a recommended storage for cryptocurrencies because it is easy to use and well secured.
We recommend the Trezor Model T even to the most paranoid crypto holder who is looking for the most secured storage. He or she can sleep peacefully at night with this hardware wallet. Furthermore, it has the most extensive list of supported coins, which is a testament that its manufacturer is keeping its pace with the trends in the cryptocurrency ecosystem.
Frequently Asked Questions
Q: What are the cryptocurrencies that Trezor Model T supports?
A: Currently, Trezor Model T supports more than a thousand coins, and that includes Bitcoin, Ethereum, Bitcoin Cash, Monero, Ripple, Litecoin, and many others. Santoshi Labs is abreast of the trends in cryptocurrency, and in the future, it will add more.
Q: Is Trezor Model T safe?
A: Yes. It has layers of wallet security features, including the hardware itself. Users enjoy the following security features: password protection, backup phrase, and duress passwords. On top of these is the company's unbroken security record.
Q: How can I restore my Trezor Model T?
A: In case you lost your Trezor Model T, you can restore the funds in your device by using the recovery seed, which is generated during the first time you have set up the wallet.
Q: Does the Trezor Model support ERC20?
A: Yes, the Trezor Model T supports multiple ERC20 tokens, and you can work with different ERC20 wallets like Metamask and MyEtherWallet.
Why choose a hardware wallet like Trezor Model T?
You can use hardware wallets as best choice to support maximum security and convenient storage for crypto or bitcoin. Hardware wallets such as Trezor Model T are able to separate personal data information on device. As we know, personal information can be prone to be stolen when connected to internet. Personal data is very important for us to always protect, one of which is by utilizing a secure offline system on a hardware wallet. Our data will be fully protected even if the device is connected to a PC that has been infected with a malware virus.
What are the differences between Trezor T and Trezor One?
Trezor Model T is a product from SatoshiLabs which is a second-generation hardware wallet crypto/bitcoin. Model T is a type that has been perfected, one of the improvements from previous type, Trezor One, is a better quality screen. You will not find a button on this hardware wallet. So, whole thing is really a touch screen system. Trezor Model T hardware can support all types of coins that are supported by Trezor One device. Advantages of Trezor T hardware wallet are not much different from Trezor model One. But Trezor model T is able to support more coin types to store than Trezor One.
Does Trezor Model T have a specific application?
There is TREZOR application which is an extra service or software system with the best integration into Trezor system itself. Trezor Model T users can interact with hardware wallet services directly for Bitstamp exchange. Can also use software for other Trezor Model T services such as Copay or Electrum. Apart from some of that software, Trezor T services can also be used with Mycelium, My Ether Wallet, Arc Bit, FIDO / U2F, and so on.
What operating systems is Trezor T compatible with?
You can use Trezor Model T with several PC platforms. You can use Windows, Mac, Linux, and you can also use an Android device to make it easier. Thanks to latest connection developments, modern smartphones that have a USB type C connection no longer need an adapter to access Trezor Model T. TREZOR application will be maximally used with Trezor Model T rather than the Model One. Various other applications can also work with Trezor Model T service such as WALLETH application or Android OS-based application for accessing Ethereum.
What does Trezor Model T device look like?
The Trezor Model T has been designed in best possible way to be practical to use. This Trezor T comes with a minimalist design. Trezor Model T is only 1.54 inches wide, 32 inches deep, and 2.52 inches long. In addition, Trezor T only has black color and contains details of classic Trezor logo. There is also a lock on top of Trezor Model T. At the bottom of Trezor T, there are mini ports, USB 3.0, and USB 2.0. So that it allows you to connect Trezor Model T more easily to your laptop. In addition, there is also advantage of Trezor Model T in the form of a sophisticated and color touch screen. In fact, this screen is first color screen of any other crypto wallet hardware on market. You could say, Trezor Model T is quite superior in terms of aesthetics or appearance. This black hardware wallet looks modern, sophisticated, and sleek. This device weighs only 22 g. While Trezor Model T is very practical, it's also very portable to keep in your pocket. This device is made by ultrasonic casting without using bolts or screws. So that Trezor Model T is very firmly held.
How many coins can Trezor model T hold?
This Trezor T supports up to 650+ different types of coins. But capacity of coins that Trezor Model T supports can still be expanded to support the latest various cryptocurrency coins later. By using Open Source Firmware, Trezor Core, this device can always be updated or upgraded for its new version. So that it can support entry of various new cryptocurrencies. In addition, for these new enhancements, Trezor Model T allows for expansion of memory using a microSD.